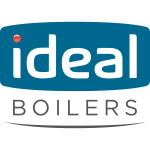 Ideal Combi Boilers at Fixed Prices
Ideal combi boilers are one of our most popular brands. All pre-packaged with filter and wireless room thermostat, our Ideal combi boilers are easy to operate, reliable and efficient. Our Ideal Max Accredited engineers will install your new Ideal combi boiler in just one day.
Founded in 1905, Ideal boilers have been manufacturing at their factory in Hull for over a century. They are one of the countries leading boiler brands, with well over a million UK households putting their trust in Ideal boilers to keep them warm. Quality, reliability and value for money come as standard with Ideal boilers.
Browse our selection of Ideal combi boilers below; then give us a call or complete our self-survey on a mobile phone or tablet to receive your low fixed price quote within minutes.
Get your new
Fixed Price
Boiler Quote: The Smart Way
Don't miss your chance to get a bargain-priced boiler installed within days 
Complete our instant self-survey to get your fixed-price online quotation