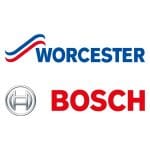 Worcester Bosch Combi Boilers at Fixed Prices
Worcester Bosch combi boilers have been installed and trusted in UK homes for over half a century. All pre-packaged with Worcester Bosch System Filter and Hive Active Heating wireless & internet-enabled Programmable room thermostat, our Worcester Bosch combi boilers are easy to operate, stylish and efficient. Our Worcester Bosch Accredited engineers will install your new boiler in just one day.
Founded in 1962, Worcester Bosch have long set the benchmark within the industry for efficiency and reliability, producing top-quality models suitable for homes of all sizes. The entire Worcester Bosch Greenstar CDi boiler range has been awarded Which? magazine's Best Buys award, maintaining their well-established reputation for producing premium quality and performance boilers.
Browse our selection of Worcester Bosch combi boilers below; then give us a call or complete our self-survey on a mobile phone or tablet to receive your low fixed price quote within minutes.
Get your new
Fixed Price
Boiler Quote: The Smart Way
Don't miss your chance to get a bargain-priced boiler installed within days 
Complete our instant self-survey to get your fixed-price online quotation