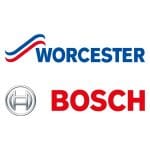 Worcester Bosch Greenstar 8000 Life Combi Boilers at Fixed Prices
The Worcester Bosch Greenstar 8000 Life combi boiler features a modern new design and a whole host of benefits designed to make looking after the heating and hot water in your home easy. Our Worcester Bosch Accredited engineers will install your new boiler in just one day.
Complete with a 12 year parts and labour warranty for your complete peace of mind, the Worcester Bosch Greenstar 8000 Life combi boiler builds upon the award-winning Greenstar CDi Classic and is part of Worcester Bosch's most powerful wall-hung combi boiler range. All models come packaged with both a Worcester Bosch System Filter for total protection of your new boiler, plus the Hive Active Heating wireless & internet-enabled Programmable room thermostat which allows you to schedule your home's heating and reduce your energy bills.
Click the boiler size most suitable for your property for more details; then give us a call or complete our self-survey on a mobile phone or tablet to receive your low fixed price quote within minutes.

Get your new
Fixed Price
Boiler Quote: The Smart Way
Don't miss your chance to get a bargain-priced boiler installed within days 
Complete our instant self-survey to get your fixed-price online quotation