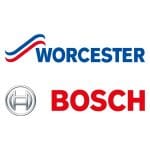 Worcester Bosch Greenstar CDi Compact Combi Boilers at Fixed Prices
The Worcester Bosch Greenstar CDi Compact combi boiler is compact and quiet, and and is designed to fit within a standard kitchen cupboard. Our Worcester Bosch Accredited engineers will install your new boiler in just one day.
Complete with a 10 year parts and labour warranty for your peace of mind, the Worcester Bosch Greenstar CDi Compact combi boiler is part of Worcester's top-of-the-range Greenstar CDi series. Despite its compact size, the CDi Compact still provides excellent hot water output. All models come packaged with both a Worcester Bosch System Filter for total protection of your new boiler, plus the Hive Active Heating wireless & internet-enabled Programmable room thermostat which allows you to schedule your home's heating and reduce your energy bills.
Click the boiler size most suitable for your property for more details; then give us a call or complete our self-survey on a mobile phone or tablet to receive your low fixed price quote within minutes.

Or £28.45 per month with no deposit
Or £29.74 per month with no deposit
Or £31.68 per month with no deposit
Get your new
Fixed Price
Boiler Quote: The Smart Way
Don't miss your chance to get a bargain-priced boiler installed within days 
Complete our instant self-survey to get your fixed-price online quotation